Now we get onto the stuff where I actually know what I'm talking about.
The costume part of this journey is a return to my roots for me, partly because sewing custom kit is what I spent ten years doing, and partly because Gab was THE first costume I ever made at the tender age of around 12 or 13. The majority of that particular costume has now been consigned to the scrap bag, and I am starting again.
It makes logical sense to start at the beginning. I like the idea of building up my collection of Gabrielle's costumes chronologically, and also this project goes hand in hand with my long term fitness plan, and Gab's first costume, rather conveniently, is the one that shows the least skin. This way I can start off covered and build up to the belly shirts as I build up my belly muscles. Perfect!
So, project 1, the peasant dress.
Peasant dress, photo by Phil Alldridge
Ever had that thing where you picture something in your mind only to realise it's actually completely different? Well I had that with this costume. I knew I had some pale blue cotton in my stores and was already rubbing my hands with Scrooge-like glee at the thought of how cheap this dress would be. Then, as I sat down in my reams of disused material and checked my references, the fates deigned to laugh in my face once more. The blouse is not plain cotton. Oh, and there's more than one. In fact, throughout series one I have spotted at least three different pleasant blouses.
The first, from "Sins of the Past" (and other episodes), is arguably the most iconic as it it of course features in the opening credits upon Renee's addition to them. It appears to be made of an almost shiny/silky material and has a very distinct almost celtic-style square spiral self-pattern on it. I'm actually none too keen on this, as the silky look and clean geometric style don't quite seem right for Gabrielle's simple peasant life. And I'm really quite glad I didn't like it, as I predict such a material may have been tricky to locate, resulting in a fair bit of frustration, time and expense!
Moving on, another incarnation of the dress features a rarely seen GREEN variant of the peasant blouse.
It's also worth noting that this variant does not have the long ruched sleeves of the first design, and instead simply has short sleeves ending at the elbow. The material appears plainer, but with a texture to it a tad more organic.
The best shot I got the blouse material up close was the following image shown below, showing a linear pattern, like a very natural grain or series of creases. I liked this style as it seemed suitably organic and so fit the time nicely.
Entirely coincidentally, I stumbled upon a suitable match for it in my local fabric store as I wandered aimlessly between the cottons and the linens bemoaning the fact that they just didn't have a wide enough range of natural fibers in varying tones of muddy-peasant-brown. If this material takes a dye, I can also create the green variant blouse by adding a pale lemon yellow to it.
In this shot it is also possible to see the natural, open weave of her jacket, which appears to be a very loosely woven linen, and the fraying detail of the orange and yellow trim. Ebay came up trumps for that one with a lovely teal linen for 99p for a metre and a half.
We can also see how the lacing on the front of the shirt works – threading through loops stitched into the front. The lacing does not appear to go all the way to the neckline, and the drawstring around the neckline is also tucked inside, presumably leaving less dangling cords for unfriendly warlords to grab hold of during a scrap!
Here we can also see the sleeves of the jacket, which feature the same orange and yellow banding as around the front and collar, as well as some sections in black or green. It also features black lines which appear to have been drawn or painted on, as well as paler bands which appear to be lines where the weave of the fabric is different to the main body. I may have to appliqué these but it is simple enough.Because the stripes have a slightly different weave I may be tempted to see if I can find or dye cotton tape the same shade and use those instead.
It's a very simple cut with no fastenings and ¾ sleeves a little longer than those of the blouse. The lining shown in the picture appears to be an identical or similar colour.
I already have, a set of patterns for bolero jackets, shrugs and capes, a Butterick, code B4664, one of which is PERFECT for Gabby's little coat with a slight widening of the sleeves.
The skirt and sash appear to be a soft linen or linen mix, although for the sash I am considering a viscose/raylon blend – a fabric often used for pashminas – as it has a linen-like look only without the stiffness. It's also worth noting from the shot above that the sash has a chocolate brown trim which sometimes shows depending on how it is tied.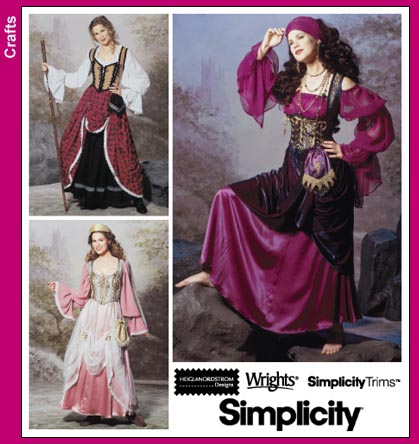 Now for the blouse pattern, I already had in my stock a
Simplicity gypsy girl
pattern from their fancy dress range (reference 9966 if anyone is attempting to recreate this). If you do use this same pattern I highly recommend opting for option B/C with the higher shoulder seam (pattern piece 17, rather than 3) as style A is off the shoulder (see left). You will have to amend slightly, shortening the sleeves and moving the drawstring channel nearer to the collar hemline. Fortunately I already had this pattern in stock from when I created the Snow White renegade costume from 'Mirror Mirror'
While the hunt for appropriate skirt and sash fabrics continues, I do now have the resources to begin basic construction of both the blouse and the jacket!
So, fabrics bought, patterns chosen, let's get cutting!
Left: jacket linen. Right: blouse cotton. Upper left corner: rejected stock cotton, now potential jacket lining.